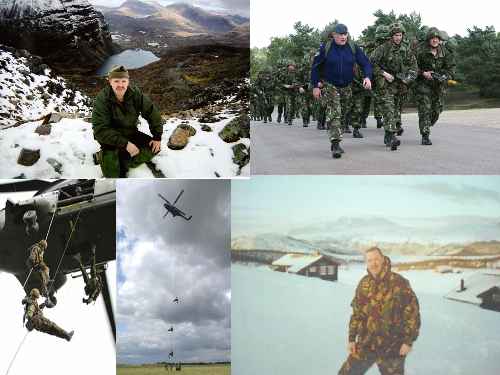 Steve McTigue
A quick biopic
Steve originates from South Wales, but moved with his parents and two brothers to Shropshire in the late 70's.
After a successful academic career 'The World Was His Oyster'. A life of travel and adventure was his dream, and due to the fact he came from a proud military family, Steve decided to join the Royal Air Force where over his 24 years of military career saw service in the South Atlantic (Falklands) Campaign 1982, Germany, Gibraltar, Cyprus and various other Theatres of Operation worldwide including both the Arctic and Antarctic Circle. Steve has been decorated on four occasions for service to his country.
Steve can trace his military family history back to the early 1800's, most notably his Great-Grandfather who served in the 24th Regiment of Foot, The South Wales Borderers in Isandwana in 1879 - the same regiment as the soldiers who defended and held Rorke's Drift, winning 11 Victoria Cross. He rejoined the Army again some 35 years later!! (Now in his early 50's) and fought throughout the 1914 -18 war. He died peacefully in his bed in 1946 aged 82.
During WWII his uncle was Field Marshall The Viscount Montgomery of Alamein's personal medic for a large part of the North Africa campaign. His uncle was awarded the Military Medal for gallantry at Gasr-El-Abid November 1941.
His uncles gallantry citation read:
"Corporal S.W. Scannell along with a number of severely injuried patients were left behind, due to the severity of their injuries, as the remainder of the Dressing Station staff retreated with the Allied Force. It was hoped that the advancing German force would take them prisoner and treat their wounds. On the 24th November, 1941, the Dressing Station at Gasr-El-Abid was attacked and occupied by the enemy. During the attack, when his tent was riddled with machine gun fire, Corporal Scannell, did his best to put patients in a position of safety and continued to treat and encourage them. During the next nine hours he succeeded in carrying out treatment prescribed for patients, though repeatedly fired on by enermy sentries whenever he left the tent for essential requirements. Due to his bravery and care all the patients survived, and after the enermy moved on, all the patients made it back safely to allied lines"
See Picture below.
Steve's love and passion is helping to organise any event no matter how small or large, over the years Steve has organised
· Weddings (most notably Steve played his part in the wedding of Lord & Lady Grocott's son – Lord Grocott of Telford was the Government's Chief Whip in the House of Lords)
· Formal Dinners
· VIP Top Table dinners
· Summer Balls
· Charity Balls
· Ladies Guest Nights
· Celebrity events (for example - a visit by the Lord's Taverners Cricket Team for a charity match)
· Toastmaster at events attended by members of the Royal Family. Her Majesty, Queen Elizabeth II, His Royal Highness, The Prince of Wales, Prince Charles and Her Royal Highness, The Princess Royal, Princess Anne. Most recently Steve has been Toastmaster to His Imperial Majesty, King Adeyeye Enitan Ogunwusi of Nigeria.
· Played Host and Master of Ceremonies to visiting 'Live' entertainment acts most notably Master of Ceremonies for the Rhos Male voice choirs in front of the former Chief of the Air Staff, Marshal of the Royal Air Force Sir Peter Harding GCB DSc FRAeS CBIM
Over many years, Steve has given the "Speech to the Lassies" at the annual Burn's Night Supper held in Stafford. Steve said "Its a great honour for a Welshman with an Irish name who lives in England to speak on such a Scottish occasion"
Steve is very proud and honoured to be a Fellow of the College of Toastmasters and a Member of the Guild of Macebearers
Steve met his wife Sharon at a friends wedding (he was the Best Man and Sharon was the Chief Bridesmaid) Steve remarked " It said in the Best man's instruction manual that the Best Man is responsible for looking after the Bridesmaids - but I cant remember it saying anything about having to do it for life!!!!
Steve & Sharon have a daughter, Jennifer Rosarii who is the centre of their universe and around which all things revolve. Steve's other passion is his collection of Classic Cars, Hill Walking and being Welsh of course you guessed it - Rugby!!!
"so that's the boy that grew to be the master toastmaster
Who would of known that he would be a master toastmaster"